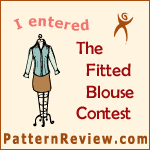 Have you ever been so close to a finish then boom ,stuff happens lol! well I was on a good roll, doing good, so proud of my first ever princess seams, lol!
all I had left was sleeves, buttonholes & the collar, sooooo close!
so far so good, I decide I'd try it on, took  a deep breath &pinned it where the buttons would go, the good thing is I'm in it! yea butttt I see some skin showing lol! which means  after the buttons are on they may wantta pop off lol!
so off for more fabric ,I have the new size all cut out & tomorrow I begin again! five days left!no pressure what so ever!LOL!