According to the calendar it is finally Summer, but you couldn't tell it was wasn't Spring this past month with temps up in the high 90s, life was a little busy to get much sewing done for the Spring, but Summer's looking brighter lol!
I decided to sew by seasons, Spring, Summer, Fall, Winter then I broke it down into categories, Dress's', suites /casual,sport/ lounge, sleepwear/ special occasion /refashion, just for fun so lets see how I did lol!
DRESS/SUITES
McCall's 5890 (blouse)
even though I have the blouse raised up as high as it'll go the neck line is still way too low ,but I like that the pattern has princess seams & looking at the picture now I can see I've lost weight since then, yea me! sorry back to the blouse lol! I will tweak the pattern & try it again
CASUAL/SPORT
I'm proud to say this skirt needs cutting down already!
SPECIAL OCCASION
I made this  chevron skirt to wear to church the Sunday my daughter came & spoke on her adoption possess for Reece
REFASHION/JUST FOR FUN
this was a curtain panel that I transformed into an apron
this almost turned out to be a peplum lol! I think I needed  two tee's for the bottom  to ruffle up more,but  a cute project, I may try again
I am ready to embrace summer with bright vibrant colors
I'm thinking this will be my first Summer project as it has a 4th of July feel about it lol!
I have  roughly 18 days left to get my sewing room all tweaked, fluffed, organized,decorated etc. for  the "Where Bloggers Create" party which I will post on my Nannas Raggedys-N-Prims blog July 11th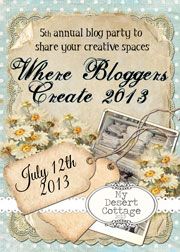 http://www.mydesertcottage.com/2013/06/are-you-ready-to-be-inspired-again.html
surely this will inspire more time in the sewing room lol!