friends tell me I can find more stuff to get into than anybody they know lol!
http://ontheroadtosewwear.blogspot.com/2013/07/scary-september-stepping-out-of-comfort.html#comment-form
and it might just be true lol! when I saw this , it made me think of button holes, zippers, pockets, lining, things I haven't touched in over 30 years in the sewing field but have been wanting to get back into sewing for myself when I came across sew your own wardrobe for a year
so when I came across  Beverley's  Scary September to step out of your comfort zone I thought humm well I should step further out of the box as you can see I've been sticking to pullovers & elastic lol!
speaking of getting into things, I signed up for Where Bloggers Creates blog hop a few weeks back, I knew this would be the kick  I needed to get my sewing room done after trying to make it get that awwww I wantta be in here feeling for over  two years lol!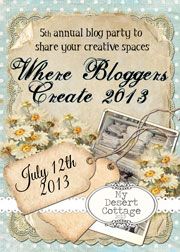 and trust me I feel kicked but glad I did it ! would you like to see more?
http://nannasraggedys-n-prims.blogspot.com/2013/07/where-bloggers-create-2013sewing-room.html
there's sewing to be done for a short vacation coming up, I don't wantta mess the sewing room up lol!
Dolphin cruise is booked, outfits to be made, peaches to be canned, blackberries to be picked,Van to be washed (birds pooped on it lol) will I get it all done? well I just gotta! lol!