Seems I've been locked away in the sewing room for the last two months sewing sewing sewing for my show & even though I'm still in there off & on lol now sewing things for my daughters show then I've decided to do another show in Dec, I know! sew crazy! lol! anyways back to the challenge, let's make a scarf!
now doesn't that sound like fun? lol!, come on, you know you want to! so hop on over & sign up lol!
 http://ricochetandaway.blogspot.com/2012/10/ring-your-neck-scarf-challenge-nov-2012.html
other than  finding things to get into as though there's not enough, I noticed the quilt that hangs in my bedroom is the same  pattern I'm doing for the Great granny Square Quilt Along, funny how it just stood out the other night lol! my husbands grandmother made this for our first Christmas together way back in 1975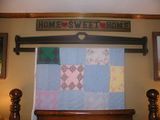 it made me smile to think how she would of thought it was kinda neat how that pattern came up after all these years, this quilt  started out as a quilt along challenge & now it has went beyond much deeper than that as sweet memories flood my soul
this makes me want to finish it even more!